14/06/2013
Relief from the madding crowds
Three destinations that are off the beaten track but still worth a visit. Xu Junqianshows the way.
Holidays in China are synonymous with crowds and traffic jams, even the Tomb Sweeping Day, which is when Chinese people traditionally visit the graves of their ancestors to pay their respects. So to help you enjoy a crowd-free vacation, China Daily has selected three destinations around Shanghai that are off the beaten track but still well worth a visit for your popular China tour package.
Changzhou - 179 km from Shanghai

One of the earliest cities in China to be opened-up, Changzhou in Jiangsu province is considered by most Chinese people to be an industrial town rather than a tourist destination. But with beautiful natural scenery nearby, historical relics and huge modern theme parks, the city offers many delights for those willing to look beyond the industrial skyline.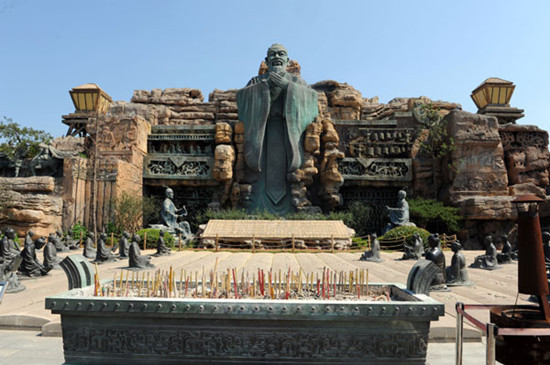 Just 40 minutes by car from the city center lies the Nanshan Bamboo Forest, a huge, pristine, natural museum housing a variety of bamboos. You can either take the cable car to the peak of the mountain, which commands an overall view of the sea of bamboo, or take a relaxed stroll through this natural generator of oxygen.
If you are interested in history, Yancheng is worth a visit. The small town might be one of the few places in China that has escaped war, and more importantly, the wrecker's ball, and it is still one of the oldest and most well-preserved ancient towns in China. A boat trip along river can't fail to please, while the marshes and wetlands are home to some unique and endangered species. Just a few steps away from the old town is the vast expanse of the newly built amusement park dedicated to what life would have been like back in Confucius' day. With an investment of about one billion yuan ($159 million), the park is a rather surreal combination of a Spring and Autumn Period (770-476 BC) theme with state-of-art amusement facilities.
If you like the local delicacies, such as fresh spring bamboo or hand pressed tofu, the chef at the Shang Palace restaurant in the newly opened Shangri-La Hotel in Changzhou is not only adept at cooking all kinds of authentic local dishes, as he is a master of some of the traditional kitchen skills that are fast disappearing, he is also very bold when it comes to creating new dishes with bizarre ingredients like insects.
The hotel is also introducing a special spring package to celebrate the local cherry blossom which ends on April 6. The less-than-1,000-yuan package includes a night in the hotel's standard room, breakfast buffet for two and two free tickets to the theme park.
Qiandeng Town, Kunshan - 63 km from Shanghai

The historical Yangtze River (Yangtze River cruises) Delta is known for its ancient towns, mostly water towns, where busy urbanites go to experience a slower pace of life. The small, 2,500-year-old Qiandeng Town in Jiangsu province really does offer some relaxing time out from the city, as unlike some of others it is not yet commercialized and it has managed to escape the hordes of tourists that disturb the peace in the other ancient towns.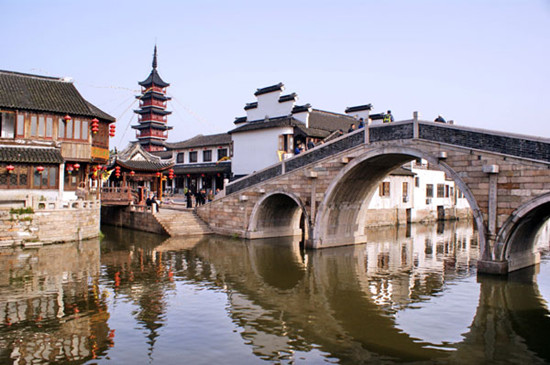 Qiandeng offers an authentic water-town atmosphere, with its chessboard layout of paved roads and canals. The Qinfeng Pagoda, which is also called the "beauty pagoda" because of its graceful, slender figure, has stood at the center of town for 1,500 years, withstanding storms and war as well as the passing of time.
After years of restoration, the pagoda is now open to the public and as well as offering some lovely panoramic views of the town it is also home to one of the world's largest jade reclining Buddhas. Newly produced and shipped from Myanmar, the statue is 8.9 meters in length and 32 tons in weight.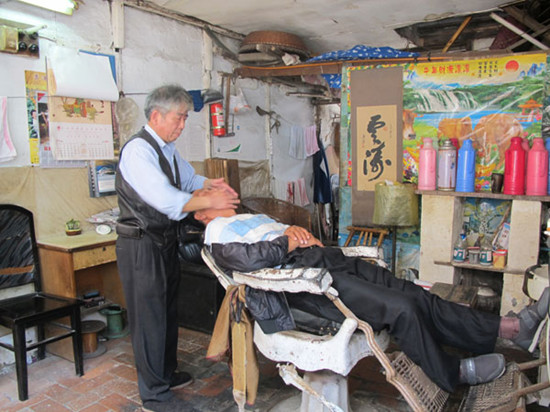 The petite town is also home one of the oldest and longest and best preserved slab stone streets in East China. Consisting of 2,072 stone slabs, the 800-meter street boasts such a surprisingly effective drainage system that even after a heavy downpour, there are few pools of water on the street.
The town's most famous son is Gu Yanwu, a renowned thinker and scholar of the late Ming Dynasty (1368-1644) who famously said "everyone should be responsible for the rise and fall of his country". Today his former residence is one of the town's main attractions.
It takes about an hour to get to Qiandeng by car from Shanghai which is always contained in packages of China tour deals. While there are few restaurants and cafes, the ones there are offer rustic east China cuisine at a reasonable price. After lunch you can spend the afternoon taking a relaxing boat trip or enjoy a Kunqu Opera performance in one of the teahouses.
Accommodation is limited and mostly low budget.
Qinhu Lake, Taizhou - 480 km from Shanghai

The Qingming Festival traditionally involves people paying their respects to their ancestors by visiting their graves. However, at Qinhu Lake in Taizhou, Jiangsu province, people celebrate a tradition that dates back to at least the Ming Dynasty (1368-1644).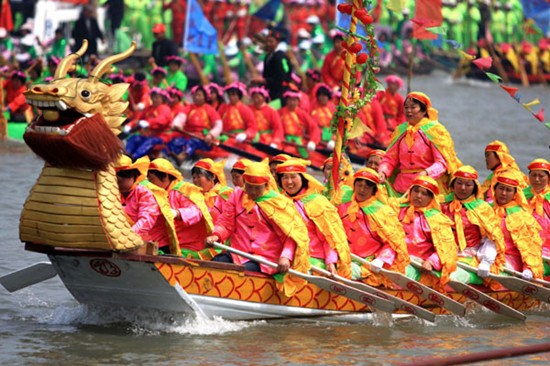 Every year the Qintong Boat Festival is staged on the lake. Beginning on the second day of the Qingming Festival, it is a weeklong carnival in which hundreds of skillful boatmen converge on the lake to compete in dragon boat races, there are also a variety of theatrical performances and folk dances.
The festival is becoming the biggest temple fair on water with the support of the local government, so you can expect to bump into other people.
If you really don't want to see anyone, the lake is part of the country's second-largest wetland park, which is home to more than 113 species of plants and 73 species of animals, including some rare species such as red-crowned cranes and rein deer.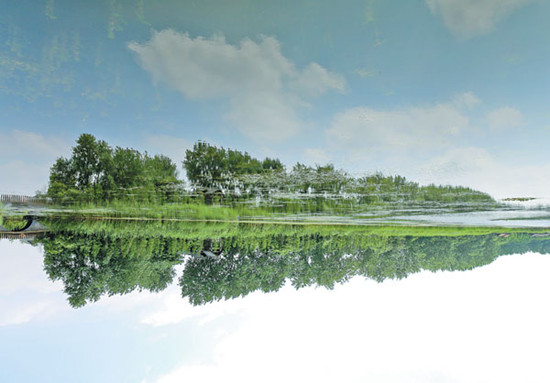 Tourists can alternate between a boat cruise and walk to explore the huge park, although it is more usually suggested to explore the park in a vehicle. However, it is more intimate to see the flora and fauna by boat and on foot.
The reeds have just turned from winter yellow to tender green, signaling spring is in the air, which means this is a good time to visit the park as many of the animals are putting on their courtship displays. You can consider the above-mentioned destinations included in yor China vacation packages.