22/07/2013
Xi'an – more than just clay soldiers II
3. Bell Tower
The 36-meter-high Bell Tower is the symbol of Xi'an (Xian tours) and marks the geographical center of the ancient capital. It is a classical wooden building with carved beams, painted rafters and is the largest and best preserved of its kind in China. The engravings on the doors of the Tower reflect the decorative fashion of Ming and Qing dynasties, recounting popular historical stories. In ancient times, the bell sounded in the morning while a drum sounded at dusk.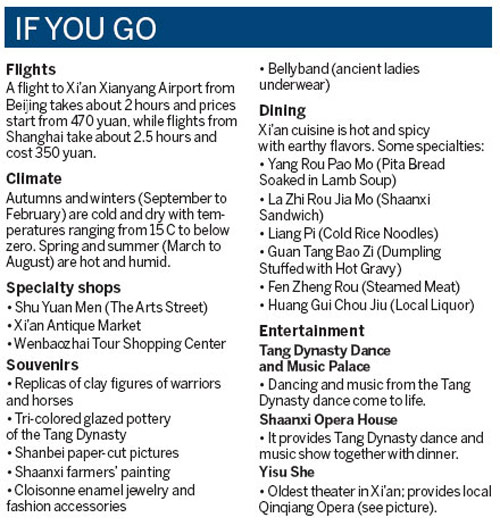 4. Huaqing Pool (an optional Xian sightseeing)
It gets cold in northern China so this 40 C natural hot spring became a favorite spa for emperors wanting to keep away the chill. Emperor Xuanzong in the Tang Dynasty used to spend winters in the company of Yang Guifei (Lady Yang) - his favorite concubine - at this cozy location. Today, visitors can bathe like a king and the pools have also earned a reputation for "healing" certain ailments. The pool is located at the foot of Lishan Mountain, about 35 kilometers east of Xi'an city.
5. Banpo Musuem
This was China's first museum established at a prehistoric site and shows a typical Neolithic matriarchal community, which lived in the Yellow River Valley about 6,000 year ago. The remains and artifacts are of paramount archaeological importance for the study of the primitive society in China. The museum is built on the outskirts of Xi'an.
Obtain more via travel China guide