04/09/2013
Seven days in Tibet
Due to tight travel restrictions, travellers don't have the luxury of time in Tibet which is the holy destination for China travel deals. For most people trips last days rather than weeks – so make the most of your stay by visiting these highlights.
Lhasa
Lhasa means 'Place of the Gods' and this city, the capital of Tibet, certainly feels as if it's in the heavens. Look up here and you're likely to see dramatic blue skies and the surrounding glacier-capped mountains.
Built into the side of a hill, the 110 metre-high, fortress-like Potala Palace is a towering presence at the centre of the city. From 1645 this was the main residence for generations of Dalai Lamas, until the current one fled to India in 1959. Inside you'll find detailed tapestries, intricate paintings, innumerable statues and golden tombs.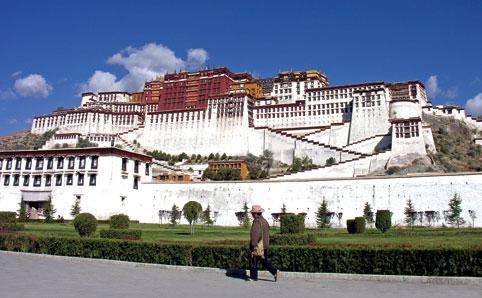 The real spiritual centre of Lhasa, however, is the 7th century Jokhang Temple, which houses Tibetan Buddhism's most sacred statue. Outside the entrance, pilgrims of all ages prostrate themselves. As they do, the coarse cloth used to protect their hands creates a sound like sandpaper roughing wood, and this rhythmic scratching combines beautifully with the soft chanting of the mantra 'Om mani padme hum'. Inside, prayer scarfs and wall paintings depicting Buddhist icons can be made out through the dim light provided by yak-butter candles. Tourists are not allowed to enter many of the chambers, including the one with the revered statue, but they can ascend to the gilded rooftop, where a panoramic view of old Lhasa awaits.
Almost as atmospheric as the temple itself is the Barkhor, the street looping around it, which is lined with stoves billowing out white clouds of juniper incense, and stalls selling bright prayer flags, coral jewellery and hand-held prayer wheels. Join the scrum of pilgrims who circumambulate the street in a strictly clockwise direction, in order to always keep Jokhang (one of famous attractions included in top 10 China tour packages) respectfully located to their right.
Around Tsetang
Located 100 miles southeast of Lhasa, Tsetang is said to be where a monkey and demoness gave birth to the Tibetan people. Despite its mythical importance, the city today leaves one without much of an impression. Use Tsetang as a sleep-stop before visiting more rousing attractions nearby, such as Samye, Tibet's first monastery. This three-tiered building features a Nepalese design on the top, Chinese styles on the middle level and Tibetan tastes at the bottom. Legend has it that, during its construction, the progress made by day would be destroyed at night by evil spirits. Eventually these spirits were trapped under a nearby hill, allowing the monastery to be completed by 779AD. A climb up said hill is worth the effort: at the top, prayer flags dance lithely around you, and you can gaze through this colourful array onto mighty mountains, Samye's sparkling rooftops and lush farmlands.Tibet's sights can begin to blend into one hazy blur of yak butter sculptures and wise-eyed statues. However, Yumbulakhang, the palace built for the first Tibetan king in the second century BC, stands out. This relatively humble castle seems to emerge from the top of a small mountain. Many of the statues and paintings here are secular, making for a somewhat refreshing change from the purely Buddhist iconography found elsewhere.
Around Gyantse
Dynamited in 1904 and in 1967 by the British and the Chinese, respectively, Gyantse has seen much hardship, but today the town is a picturesque collection of narrow alleyways. Ambling through them, nodding hello to old women milking cows, one can enjoy the ever-present backdrop of Gyantse Dzong, a striking, ash-coloured fortress in the mountains, which from a distanceesembles the hill city of Edoras from Lord of the Rings. Be sure to check out the Kumbum of Palcho Monastery here. Kumbum – meaning 100,000 images – is an apt name for this impressive building with a seemingly infinite number of chambers showcasing images of Buddha. It would take a whole day to go through all of the atmospheric rooms. Go straight to the top floor for a nice view and a chance to explore enough chambers to satisfy one's interest without becoming exhausted. To break up the six-hour drive between Lhasa (famous city in China included in popular China tour package) and Gyantse, it's worth making a diversion to see Yamdrok. As you scan your eyes over this expansive body of sapphire-blue water, set against rugged snow-capped mountains, it's easy to see why it's considered a holy lake.
Around Shigatse
After an overnight stop at Tibet's second largest city, Shigatse, whoseTashilhunpo Monastery feels all too ordinary compared with Jokhang, head on another 80 miles to the Sakya Monastery. During the Cultural Revolution, the majority of the religious structures here were reduced to picturesque ruins. Walking through this ghostly complex, the experience is made all the more haunting by the monotone drone emanating from a sacred conch shell that is blown by a monk in the main hall.
Essential info
All foreign visitors need a Tibet Travel Permit from a China-based travel agency registered with the Central Tourism Bureau of China. Flexible agencies will allow you to customise your journey. However, private groups must have at least five people of the same nationality and be accompanied by a licensed guide at all times. We went with Tibetan Connections (www.tibetanconnections.com). The seven-day trip cost 5,490 RMB per person, including bed, breakfast, transport inside Tibet, a local China tour guide and all entrance and permit fees